Over 17,000 Common Times Immediately Available
Timer Pro Professional includes over 17,000 common times for common processes in a series of standard data libraries. You may use these libraries as is, edit them as needed, and create any number of your own customized standard data libraries.
The use of a Standard Data Library:
reduces the need to perform additional time studies – freeing observers for other tasks,
is 95% faster than time study – can also be used to estimating and methods analysis,
deskills the standards development process -can be used by staff at any level.,
increases consistency and traceability – improves costing and planning,
creates a centralized knowledge base –  data becomes a corporate asset.
Timer Pro Professional offers the unique ability to save the results of a time study to a customized Excel based standard data library. Data stored in standard data libraries can be accessed by Timer Pro's Data Application Expert and used to develop new standards in Excel templates designed to the specific requirements of your operations.
Standard Data Libraries Included in Timer Pro Professional
As shown below, to use the standard time data libraries, click on the folders and drill down to the standard data element and values. A pop up window appears with the full details which is then saved to the estimating sheet when the OK button is clicked.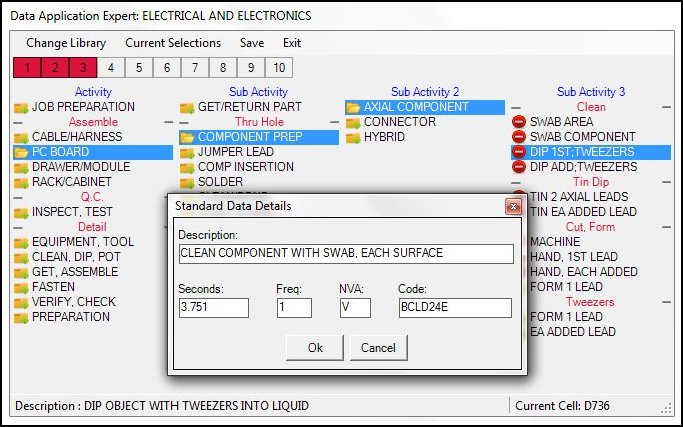 Create and User Custom Standard Data Libraries in 6 Easy Steps
Google Unwanted Software Policy Compliance Statement
We hereby attest that the software application offered here is developed, owned and distributed by us for the purposes of process measurement to support  your continuous improvement initiatives; will not affect the performance of your system hardware or change any system  settings; is easily completely removable from your system; does not collect or transmit any private information in any form;  is not bundled with any other software; is free of malware.