Start Right Now with the FREE Excel Time Study Template
The Time Study Template for Excel is a free subset of Timer Pro Professional that allows you to:
Enter your Time Study Data and the Timer Pro Template will summarize and give you the same Reporting Capabilities available in the of the full Professional package.


New If you do not have your own existing time studies, use the Standard Form provided with the Time Study Template to perform a detailed time study. Next, load your data directly into the template.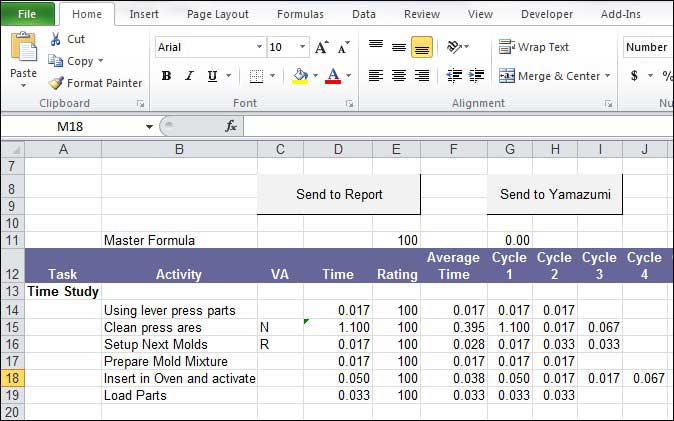 Take Line Balancing and process data you already have and the Time Study Template will instantly develop Yamazumi Charts in Excel. These charts highlight value and non-value added work so you may target your work process improvements. They are the same charts that you get from the Professional package.
For more information watch the short video below:
IMPORTANT:
When using the Time Study Template you must save your Excel Templates into the same folder that the program resides.
Google Unwanted Software Policy Compliance Statement

We hereby attest that the software application offered here is developed, owned and distributed by us for the purposes of process measurement to support  your continuous improvement initiatives; will not affect the performance of your system hardware or change any system  settings; is easily completely removable from your system; does not collect or transmit any private information in any form;  is not bundled with any other software; is free of malware.