Time and Motion Studies and Work Sampling
Supports Time and Motion Studies and Work Sampling
Directly from Within Excel
Directly from Video Recordings
Using the iPad, iPhone, Android Smartphones and Tablets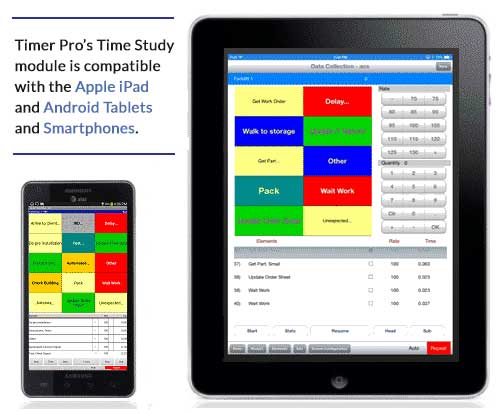 Apple and Samsung Device Capabilities
Any number of time study templates can be used in the application to cover all your operations. Add header data to identify the study and additional data and notes (by observation) to capture full details of the study. You can performance rate every observation and easily handle interruptions and fumbles. Missing some elements? Simply add and edit elements in real time on the device.
At any time you can instantly access summary statistics and see required observations, operator performance and the final standard for review while at the work station.
Download templates from Excel and send collected data back to Excel for final summarization in the full Timer Pro Profession package for use in line balancing, data libraries and work instructions.
Examples Where Timer Pro Professional Can Be Used:
For office work or where the work place allows for easy use of a laptop computer you can use Excel.
If you need to move around to record activity – perhaps in a warehouse, hospital or transportation studies use the PDA.
To work with staff to identify process improvement opportunities, in lean and Kaizen initiatives or for operator training purposes use the powerful Video Time Study module.
Data Saved in Excel Compliments Timer Pro's Other  Capabilities
Standard data libraries
Process analysis, work cell and  line balancing
Operator training and best practices
Work instructions – automated creation and maintenance.
No other product offers such a range of capabilities. All for one low price
Google Unwanted Software Policy Compliance Statement

We hereby attest that the software application offered here is developed, owned and distributed by us for the purposes of process measurement to support  your continuous improvement initiatives; will not affect the performance of your system hardware or change any system  settings; is easily completely removable from your system; does not collect or transmit any private information in any form;  is not bundled with any other software; is free of malware.