Timer Pro Web Services™ – Digital Standard Work
Timer Pro Web Services™ is an internet-based subscription service that for the first time will allow you to securely distribute video work instructions, operator training, field staff and customer support video content to your internal and external end users.
The huge advantage of using Timer Pro's Digital Standard Work is that it is created automatically during the work instruction output. Absolutely no end user effort is required. The content is ready for immediate deployment to your end users anywhere on any device from behind the security of your company firewall.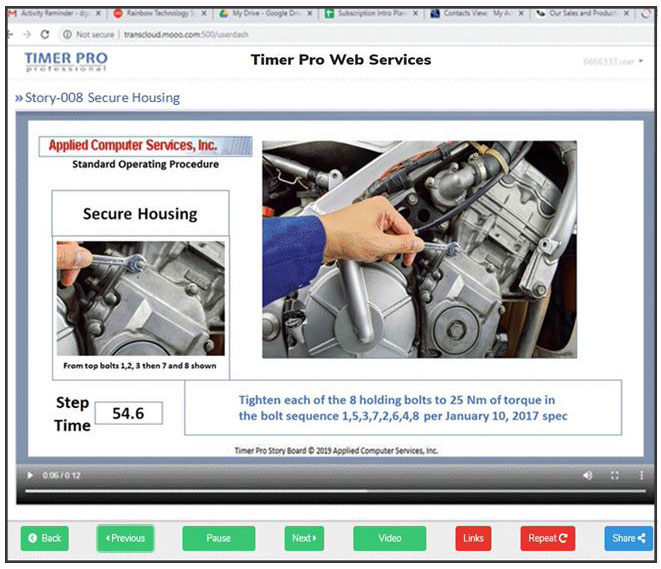 Digital Standard Work streams to a browser describing the job with supporting audio and links to supporting documents, graphics and web pages.
Timer Pro Storyboards - Video Content Developed Directly from Excel
Your video content is passed from Timer Pro into an Excel Storyboard. Each Timer Pro Excel Storyboard is a collection of scenes representing the sequence of work required to perform a specific task. Video content and captions from Timer Pro automatically merges into the Excel Storyboard. 

In the Storyboard you can  quickly and easily create rich content using only your existing Excel skills.  Audio, supporting instructions, graphics and hyperlinks to any type of document can all be added as required. Absolutely no video creation and editing experience is needed.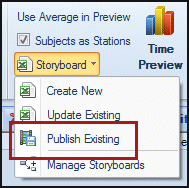 IMMEDIATE REAL SAVINGS

Before Storyboards, a client was taking two weeks to develop 10-minute training videos using video editing software.
Now, using Timer Pro's Storyboard module, the same 10-minute videos are produced in three hours.
When ready, select the Excel Storyboard from the Publish option in Timer Pro. The Video Storyboard will be automatically created ready for your distribution anywhere via the web using Timer Pro Web Services™
Digital Standard Work and Timer Pro Web Services™
Video content is organized into folder structures on your Internal web server(s), OneDrive or SharePoint. The folder structures represent how end users would navigate the content.
Click Image Below to Enlarge
Your content reside behind your corporate firewall eliminating all concerns about company information being exposed on public clouds. Content can also easily be incorporated directly into existing ERP, MES, Electronic Work Instructions packages etc.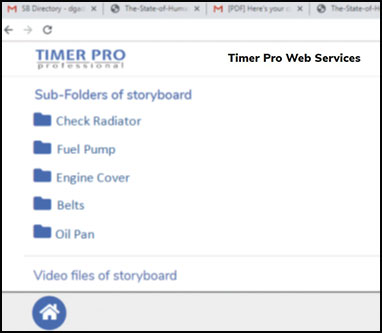 Timer Pro Web Services allow users to securely navigate your Digital Standard Work and Storyboards  to view video work instructions, operator training and customer support videos. 
All content is safely stored behind your company firewall. 
Distributing Video Content

All digital content can be referenced by a unique URL that can be shared with end users anywhere. URL's can also be placed in emails, text messages, applications and documents as needed. With a single click the end user will connect with Timer Pro Web Services™ and the content will be streamed to their device.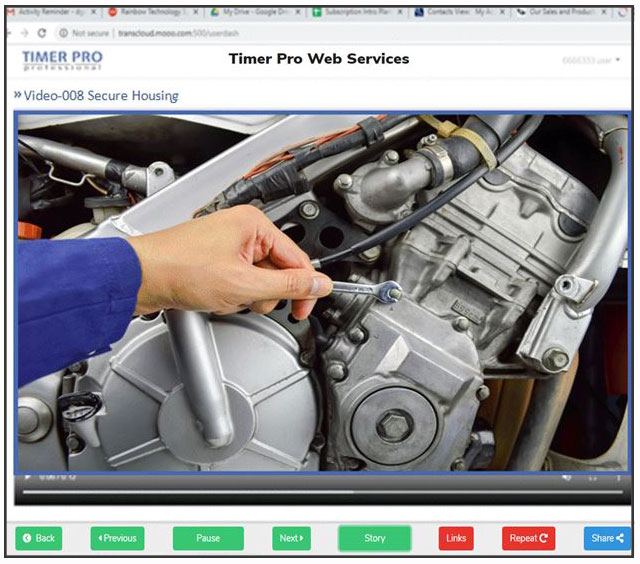 Google Unwanted Software Policy Compliance Statement

We hereby attest that the software application offered here is developed, owned and distributed by us for the purposes of process measurement to support  your continuous improvement initiatives; will not affect the performance of your system hardware or change any system  settings; is easily completely removable from your system; does not collect or transmit any private information in any form;  is not bundled with any other software; is free of malware.